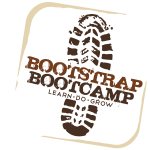 Bootstrap Bootcamp is a holistic entrepreneur-leadership training program that doesn't just focus on starting businesses but also spends a considerable amount of time developing you as an entrepreneur-leader – one who is solid in their personal life and as such positioned for success in their business lives.
Bootstrap Bootcamp prepares entrepreneurs to solve problems, live by design and generate income. To be an entrepreneur is to have hope; to be an entrepreneur-leader is to give hope.
Bootstrap Bootcamp teaches students:
       How to get rid of chaos and clutter

       How to live a debt-free life

       How to live life on purpose

       How to plan on purpose

       How to start a business on purpose
By helping people get rid of chaos, live debt-free and live by design, Bootstrap Bootcamp gives freedom.
By helping people be good stewards of their time and money and learn how to start businesses, Bootstrap Bootcamp gives hope.
Help me change the world by giving away 1 million free entrepreneurship classes.  Please share this link…http://BootstrapBootcamp.com/free – thank you.